Hannity dings the President on a number of issues, most of them exaggerated and then asks for Palin's "analysis."
"Well he's obviously very disconnected to what people are going through in real life, as we outside of that Washington D.C. bubble are quite concerned about the Middle East being a tinder box, about the domestic issues that are really adversely affecting all of us. He's disconnected from that. But you know one of the specific issues going on right now, as we have seen the airliner shot out of the sky, it's reminiscent of back in 83, remember when the Korean airliner was shot out of the sky, 269 souls were lost I believe in that. But the reaction from our President then, Ronald Reagan, to..compare that to the reaction of all these issues that are erupting right now, the present President, how different it is. Ronald Reagan called out evil, he certainly didn't ask for flexibility, or boast about needing wanting flexibility, when...um..a relatively evil man were to be in office. Such a difference in the mindset of the presidency then than now."
Uhh.......what?
I think the gist of all that, if I may attempt to translate the crazy, is Reagan good, Obama bad.
Hannity then goes on a minor tirade about the President playing golf, and attending fundraisers, and uses that to suggest that the President is "checked out." And then again invites Palin to pile on.
"Well other examples to, you know he was there in a border state when the crisis, the border crossing crisis, the invasion if you will of illegal immigrants, really started erupting, and he was in a border state and chose instead to go to fundraisers instead of visiting the borders and seeing the consequences of the actions that HE has taken that has caused these crisis."
Yes instead of going to those fundraisers to help raise money to get more Democrats into office, while also working to actually rectify the situation on the borders, President Obama could have put on his border patrol Underoos and joined Rick Perry in his little boat.
Oooh, muy macho!
Okay let's rejoin our originally scheduled program still in progress.
"Again very disconnected. I think he is so far over his head, I mean he's in over his head, we warned people in the campaign that he had no executive experience.
(Unlike some people, am I right crazy lady? Huh, am I right?)
He didn't have a resume at all that would prove a track record of knowing how to handle situations like this, being a community organizer with no real responsibilities.
(You know unlike Palin who as Governor had to keep shooing those pesky Canadians back over the border all of the damn time.)
I believe a manifestation of his acknowledgement that he is in over this head is that distancing himself, passing the buck, pointing fingers, physically even distancing himself from these crisis."
(Yes I know that last part is bad grammar, but I swear that IS what she is saying.)
Hannity then reminds Palin that HE went to the border with Little Rickie. cause he's good and posing for pictures as well.
Finally Hanity asks Palin her response to
Eric Holder's remarks
about her talk of impeachment. Which he calls "attacks against her." ("She wasn't a particularly good vice presidential candidate. She's an even worse judge of who ought to be impeached and why." For those who don't remember.)
However Hannity does not play that clip, he plays a clip of Holder making some general statements about the President being treated differently, and then plays a clip of Palin "predicting" that Russia would invade the Ukraine from the 2008 campaign, as a way to suggest her superior knowledge concerning Russia's intentions.
"Yeah real profound, you know but who couldn't see it coming when you're living here and you can see it right on over the...uh, not from my house, but you can see...keep an eye on Putin and Russia from right here. No I think that some obvious development have taken place, and when we have a President who seems to be embracing this idea of shirking back as once this super power, the shining city on a hill, for the rest of the world to see and feel secure and wish to emulate. When we shrink that back now, and there is a vacuum now on the globe that is calling for leadership, and calling for influence, that vacuum is being filled by evil men, and that's so unfortunate. It's not too late to get it back though. You know midterm elections will have a lot to do with getting that..uh..exceptionalism that is America, that message, back on globe. And we certainly need to elect people who understand it, and who will fight so hard for American exceptionalism. Again the world will be a safer place.
Afterwards Hannity again compliment the green screen behind Palin before closing the batshit crazy segment. (Do you think he knows? I think he knows.)
You know the craziest part of this, and yes there was so much to choose from, is that I ma almost certain that Palin was reading much of what she said off of prompters, and STILL it came out like this.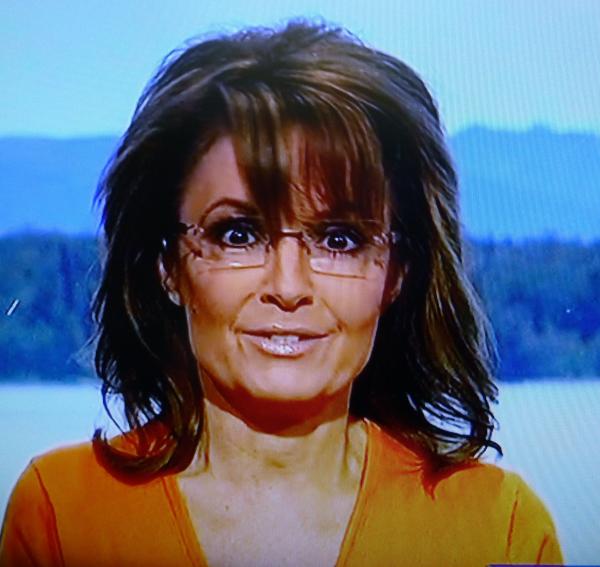 It kind of makes me wonder if her ghostwriters are taking the same drugs that she is, or if this is just the best she can do no matter how hard people work to help her make sense.